What are the Different Types of Facial Peels?
Ask the West Hollywood Skin Care Expert!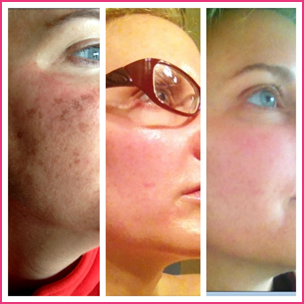 Skin Care technology is rapidly changing – with new developments in skin care and facial peels being developed every year. It can be difficult for the average person to keep up with the latest developments in skin care, and decide which facial treatment is best for them.
Additionally, many "drugstore" brand facial peel products are now on the market – many claiming amazing results! So how do you know which facial peels are the best?
Having devoted almost twenty years to offering the best skin care procedures and products, I constantly stay on top of the latest developments in skin care technology. Here is what you should know to get started.
Different Types of Facial Peels
– West Hollywood
When selecting a peel it is important to try and balance being as gentle as possible on your skin – while using skin care products that are strong enough to get the job done and get the results you want.
Basically there are 3 types – or "levels" – of chemical facial peels: the superficial peel, medium-depth peel and a deep peel.
Superficial Facial Peels

– West Hollywood
These are the type of "do-it-yourself" peels that you may see in the drugstore. Obviously, if a manufacturer is going to sell something safe for home-use it is going to be very mild because they know a "professional" will not be administering it.
Superficial peels only exfoliate the top layer of skin. Because a superficial peel is such a mild treatment, it typically must be repeated several times in order to even see any results at all. And because superficial facial peels only exfoliate the top layer of skin, they are ineffective in remedying deeper problems such as acne or lines and wrinkles.
They may provide you with a temporary glow – but superficial drug store peels are unlikely to have any lasting or profound effects.
Deep Facial Peels 

– West Hollywood
On the other end of the spectrum are Deep Facial Peels. While deep chemical facial peels can remove damaged skin cells from deeper levels of skin – they tend to be much stronger and often are more uncomfortable (even painful).  Typically a deep facial peel can only be performed one time – and there is also the disadvantage of several weeks of skin preparation before the treatment and an extended period of downtime after the treatment.
Medium Depth Facial Peels

 – West Hollywood
Medium depth peels are the "happy medium" that are effective, painless and achieve rapid and lasting results. Medium Depth Facial Peels must be administered by a skin care professional, such as myself. This guarantees that the correct "strength" of facial peel for your age, skin type and skin issues is used.
The peeling process typically lasts only a few days with a medium depth facial peel. And there are visible results with even one treatment, improved results with multiple treatments, and results that last over time.
Medium depth facial peels can reduce fine lines and wrinkles, hyper pigmentation, sun spots & freckles. Medium depth facial peels are also ideal for controlling acne while improving the appearance of acne scars.
Schedule a Medium Depth Facial Peel Today!
Lisa's Belle de Jour salon offers medium depth facial peels – including the new, highly acclaimed Perfect Derma Facial Peel – to clients in Beverly Hills, Santa Monica, West Hollywood & the greater Los Angeles area. If you are looking for the most advanced medical grade facial peel to fight acne, remove sun damage or reduce lines and wrinkles – look no further! Call me today and schedule your Perfect Derma Facial Peel today!