Get Santa Monica Beach-Ready
With Body Contouring Treatments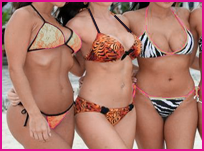 Is this is the year that you've decided to tighten up your tummy so you can hit Santa Monica beach? Has this extremely hot Santa Monica sun finally convinced you to take steps to look great in a bathing suit?  Or maybe diet and exercise alone have NOT given you the body you want!
Then maybe it's time to consider some extra "help" to get the Santa Monica Beach Body you want – with body contouring treatments!
Most women, at one point or any other, wonder about getting a tummy tuck. But when they see the cost, the pain, the downtime they freak out and start researching less invasive procedures! And the great news is that new scientifically proven body contouring technologies can target the fat that is resistant to diet and exercise – without surgery, without pain and without downtime!
There are a few different names for the body contouring procedures that are on the market now: "Cellusleek," "Lipomassage" and "Endermologie". All of these involve "mechanical stimulation" of the skin's surface in ways that eliminate fat cells, reduce cellulite, firm the skin, improve lymphatic drainage, and reshape the contours of your body.
Which Body Contouring Is the Best?
I have been helping women improve their bodies professionally for over 20 years. In my opinion, Cellusleek offers the most rapid and effective body contouring on the market. Cellusleek body contouring is similar to Endermologie – but newer, better, and in my opinion more technologically advanced.
We offer state-of-the-art Cellusleek  body contouring treatments that will remove cellulite, tighten your loose or sagging skin and also reduce inches! The CelluSleek body contouring process works on all body types – and utilizes the latest technologies. To date, all of our body contouring clients who have experienced this technology have been extremely satisfied!
We find Cellusleek to be faster and more effective than Endermologie – and CelluSleek provides visible results in your very first visit!
How Does Body Contouring Work?
CelluSleek utilizes sub-dermal  (below the skin) stimulation of cells, combined with cupping, light stimulation, deep tissue therapy and percussion (vibration) to breakdown and draw out subcutaneous cellulite.
CelluSleek treatments combine gentle suction action with three rotating balls. While the rolling balls unblock the blood & oxygen flow in the tissue & increase circulation, the suctioning action stretches the connective tissues so that the skin is restored from puckered to its normal smooth appearance.
You will feel  little slimmer after the very first treatment – and by your third treatment you should start to notice dramatically  visible results. Stomach skin will be more toned – and that squishy, bloated look will be reduced. Each treatment will yield more improvement, and you should see smaller pants sizes and a shrinking muffin top in no time!

Santa Monica Body Contouring & Cellulite Removal Treatments

Before & After Photos