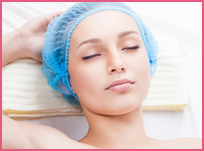 What are Jet Oxygen Facials?
We all know that Oxygen is what fuels our bodies and keeps us healthy and alive! In recent decades doctors have begun using "hyperbaric oxygen therapy" to enhance the body's natural healing, stimulate cell regeneration, and accelerate wound healing and much more.
Now, state-of-the-art oxygen facials are available to bring the healing and nourishing properties of Oxygen directly to the skin!  The rejuvenating power of oxygen is harnessed to stimulate collagen, reduce wrinkles, and restore the skin's youthful appearance.
How Do Jet Oxygen Facials Work?
Oxygen facials use medical grade oxygen as a delivery mechanism for bringing active nutrients to the skin. In essence, Oxygen Facials "feed the skin" so new collagen growth can occur.
In Jet Oxygen Facials, a serum of active ingredients, nutrients, minerals & vitamins are introduced into the medical grade oxygen. The compressed, nutrient filled oxygen is then sprayed at high pressure directly onto the facial skin surface.
This high pressure application (jet) forces the oxygen and nutrients past the skin's barrier and deep into the lower levels of the epidermis – resulting in absorption of the active ingredients by the skin. With this infusion of oxygen and nutrients the skin can then better produce collagen.
In addition to the therapeutic compounds, moisturizing (water binding) ingredients such as hyaluronic acid can be introduced to the oxygen jet – resulting in plumper, smoother skin.
How Often Do I Need a Jet Oxygen Facial?
You will see results after your first Jet Oxygen Facial. But to achieve optimal & long lasting results, we typically initially recommended getting a Jet Oxygen Facial once a week for six weeks. This can be followed by monthly touch-ups as necessary for "maintenance".
And because the Oxygen and nutrients stimulates your own body's healing, moisture retention and collagen production, you epidermis (skin) will continue to improve between and after every treatments.
We Offer Beverly Hills Best Oxygen Facials!
If you would like smoother, plumper, firmer, younger looking skin – without surgery – call us to try your Jet Oxygen Facial today!