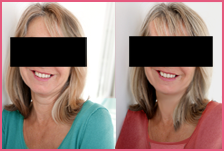 Beverly Hills

Non-Surgical Facelift With Microcurrent
Many of our Beverly Hills and Hollywood area clients want the results of a facelift – but are afraid to go under "the knife". And we don't blame them!
While certain surgical procedures can turn back the clock – there is always the risk of infection, scarring, and permanent disfigurement with surgery. (We've all seen those celebrity plastic surgery disasters.) Plus, surgical facelifts are painful, take weeks to heal – and you look like you were hit by a truck in the meantime!
The answer is a non-surgical facelift! With new, state-of-the-art Bio-Lifting Microcurrent Facelifts, you can eliminate wrinkles and have tighter skin – without the pain, risk and downtime of surgery.
What Is a Bio-Lifting Microcurrent Non-Surgical Facelift?
A Bio-Lifting Microcurrent Non-Surgical Facelift is a non-surgical facelift procedure that sends safe, painless electrical signals to the facial muscles and surrounding tissues to promote natural healing energies in skin cells.
Originally, microcurrent was used for decades as a body and muscle healing treatments. But doctors eventually realized that the patients treated with Microcurrent also had facial wrinkles reduced and facial skin tone improved!
Soon the doctors of the rich-and-famous were treating their celebrity patients with Microcurrent for a more youthful, less wrinkled face.
Now we offer affordable microcurrent facelifting treatments in our Beverly Hills area studio – so every woman can have a "facelift" without the pain, cost, risk and downtime. This treatment minimizes fine lines and wrinkles, and visibly firms and tightens the deep layers of the skin.
Are There Side Effects to Microcurrent Non-Surgical Facelift?
Microcurrent is a form of electricity closest to the electrical current that the human body naturally produces on its own. This makes it completely safe with no pain and no harmful side effects.
If fact you will find a Microcurrent "non-surgical facelift" to be quite relaxing.  Afterwards some of our facial clients even report feeling "euphoric" or "more alert & invigorated".
Microcurrent Bio-Lifting does not rely upon a thermal energy (such as a laser). This means that there will be no inflammation and no redness on your face after the treatment. You won't have to hide out – and In fact – no one will even know you had a "facelift".
We Are Beverly Hills Non-Surgical Facelift Experts!
If you would like smoother, plumper, firmer, younger looking skin – without surgery – call us to try your Microcurrent Non-Surgical Facelift today!