What Is a Microdermabrasion Facial?
Ask the Skin Care Experts in Beverly Hills!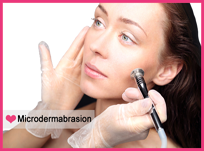 A microdermabrasion facial is a non-invasive – but powerful – treatment that gently exfoliates your skin. These facials leave your complexion smoother, brighter, and more even in color.
Benefits of Microdermabrasion Facials
Micro-dermabrasion facials have many benefits. These specialized facials reduce wrinkles & fine lines, stimulate collagen, reduce pores & firm the skin.
Can I Do Microdermabrasion Facials at Home?
Beverly Hills
Professional microdermabrasion facials go much deeper into the skin than "drug store" treatments! Don't be fooled by so-called "dermabrasion kits" that you use at home! These are much more superficial than the microdermabrasion treatments performed by a professional.
At my skin care salon I offer both Standard Microdermabrasion Facials and Diamond Dermabrasion Facials, performed with expensive, state-of-the-art equipment. This equipment (which uses blasting with crystals, suction and diamond tipped wands) removes dead skin and rejuvenates living skin in a way that you simply cannot do at home!
How Do Microdermabrasion Facials Work?
Standard Microdermabrasion Facials
– Beverly Hills
Standard Microdermabrasion Facials use a type of "sandblaster" to spray tiny aluminum oxide crystals across the face – causing gentle abrasion of the outer layer of skin. Deep (but comfortable) suction then removes the dead skin.
Diamond Microdermabrasion Facials
– Beverly Hills
Diamond Microdermabrasion Facials utilize an advanced piece of equipment with a diamond tipped wand. Areas closer to the eyes and mouth can be abraded more accurately when treated with diamond dermabrasion because there is no spraying of aluminum oxide crystals.
How Many Microdermabrasion Facial Treatments do I Need?
My clients begin to see results after the very first microdermabrasion facial treatment! You will be surprised – and thrilled – at what a difference it makes to remove those dead layers of skin.
The total number of facials you will require to look your best depends on:
Your age (teenage? mature?),
The type of skin you have (oily? dry?),
Any special "issues" you may have (acne? wrinkles?), and
Your long term skin care objectives
I have been helping men and woman in Beverly Hills and the Los Angeles area with dermabrasion facials for many years. In addition to your microdermabrasion facial, I can add Oxygen treatments, ultrasound technology, bio lifting, and LED, to stimulate collagen, plump out your skin and restore elasticity!
Call today for a skin care analysis to see if microdermabrasion facials are right for you!