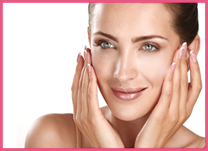 State-of-the-Art LED Facials
in Beverly Hills –
Many of our Beverly Hills clients are in love with our state-of-the-art LED facials! LED facials were originally discovered by doctors and skin care specialists to A-list celebrities whose careers depended upon staying youthful. Now we offer the same facial treatments that the stars get – so every woman can fight the signs of aging and have younger looking skin.
LED facials – sometimes called "Color Light Therapy" or "Color Light Facials" – use four wavelengths of UV-free LED lights that are clinically proven to boost collagen production and increase elastin. In addition, the LED facial light frequencies are also antibacterial – helping kill damaging free radicals that can havoc on your skin.
This results in plumping, firming and anti-aging – that leaves your skin glowing, and your face looking years younger!
What Do the LED Facials do?
Beverly Hills
The state-of-the-art LED facial machine emits four different LED lights – each having a different wavelength and functions.
Amber LED Facial Light builds new collagen and elastin. Red LED Facial Light reduces inflammation & promotes circulation. Blue LED Facial Light destroys bacteria; and, Infrared LED Facial Light accelerates skin recovery.
What Does An LED Facial Feel Like? 
Beverly Hills
LED facial treatment are actually quite calming and soothing. You simply sit still under a moderately bright light for 20 minutes and relax. It may remind you of sunbathing on a beautiful beach – but you will be basking in healing rays, rather than the sun's harmful rays.
You will be astounded at how much better your face feels and looks after just the first LED facial treatment. And within three days you should see the full results of the LED facial treatment.
We Are the Beverly Hills Area Best LED Facial Salon!
If you would like smoother, plumper, firmer, younger looking skin, call us to try your LED Facial today!