What is the Best Treatment for Cellulite?
Ask the Experts in Beverly Hills!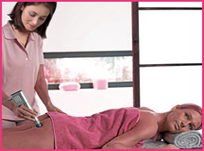 I am often asked by my skin care clients in Beverly Hills: "What type of cellulite reduction treatments do celebrities use?" Or, "What is the fastest, most effective cellulite treatment on the market?"
For years I have been helping professional women, entertainment industry executives, and even Hollywood celebrities in the Beverly Hills area get rid of unwanted cellulite!
The secret to getting the "best" cellulite treatment is to consult with an experienced skin care specialist who understands the latest skin care techniques and who uses only state-of-the-art cellulite treatment equipment.
In my opinion, the Best Cellulite Treatments:
Aggressively target fat and cellulite
Are relaxing & comfortable – not painful
Are non-invasive, non-surgical cellulite treatments
Have no "downtime" or "recovery time" after treatment
Naturally boost the body's ability to remove fat and cellulite
Show immediate results and have long lasting effects
Work even when intensive exercise & low-calorie diets do not
Are healthy, natural, and responsible fat reduction treatments!
The Most Effective Cellulite Treatments
– Beverly Hills
No matter where you have unwanted fat or cellulite, I have a full line of state-of-the-art cellulite treatment equipment, products and techniques that will help you lose inches and restore your skin's natural elasticity & smoothness.
Below are just some of the "best" skin care treatments we currently offer for your unique skin care needs.
CelluSleek Cellulite Treatments
– Beverly Hills
We are the only Salon in Beverly Hills to offer CelluSleek Cellulite Treatment. This state-of-the-art cellulite treatment uses the latest technology and equipment for non-invasive, non-surgical body sculpting & cellulite reduction.
CelluSleek body contouring treatments work on all body types – and will remove cellulite and unwanted fat from almost any area of the body.
CelluSleek Cellulite Treatment is the most effective because it combines cell stimulation (sub-dermal therapy) with cupping, suction, light stimulation, deep tissue therapy, vibration & percussion into one cellulite fighting treatment.
CelluSleek is fast, comfortable, affordable and non-invasive (non-surgical). You will see results in just one visit! In my opinion, it is better, faster and more advanced technology than Endermologie! The end result is beautiful, toned, cellulite-free skin!
Microcurrent Cellulite Treatments
– Beverly Hills
Microcurrent Cellulite Treatment is ideal for targeting specific problem areas, including: abdomen ("stomach"), arms, breasts, buttocks, hips and thighs.
A series of treatments are done for each targeted area of fat or cellulite. Best of all, the results are permanent if you continue with a healthy diet and lifestyle!
Benefits of Microcurrent Cellulite Treatment include:  cellulite reduction; muscle toning; body sculpting; loss of inches; skin firming; skin tightening; less visceral fat; increased circulation; and faster metabolism.
Best Cellulite Treatments in Beverly Hills
If you would like to lose unwanted cellulite and fat without surgery, schedule an in-person evaluation with me in my Beverly Hills area salon, to discuss your cellulite treatment options.
My cellulite reduction and professional body contouring treatments will leave you with smoother, more toned & beautiful skin. Schedule your appointment today to get the body you've always dreamed of!