Beverly Hills Cellulite Removal Treatments
Get You Ready for Wearing That Swimsuit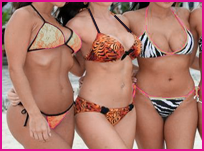 Can you believe that it's been in the 90s in Beverly Hills this month? What a heat wave! And anyone with any sense is heading for the pool to cool off.
But, if you are like most women, you probably have a little cellulite "here and there" that annoys you – or even makes you cringe – when you put on that new swimsuit. In fact, roughly 85 percent of women over the age of 20 have some unwanted cellulite! Now that may be no big deal if you live in Alaska . . . but in sweltering Beverly Hills every woman needs to be able to confidently rock that bathing suit or itsy-bitsy, teenie-weenie bikini!
As a cellulite treatment specialist in the Beverly Hills, California area, I have helped hundreds of women – from single twenty-somethings to sexy seniors  get rid of unwanted cellulite.
First, let's be realistic: there is no pill, drug-store cream or "magic bullet" that is going to remove cellulite. Even losing weight and exercising will NOT remove cellulite!
To remove cellulite you have to do it physically, by essentially changing the interior structure of the skin.  Now cellulite can be removed physically through painful and expensive liposuction OR cellulite can be removed physically using my advanced, affordable, painless techniques & equipment.
Cellulite Removal Happens Below the Skin 
– Beverly Hills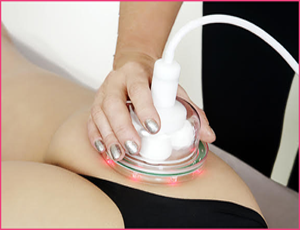 Here's a brief explanation why why diet, exercise, or cellulite creams alone cannot remove cellulite. Beneath the skin, there is a grid connective-tissue strands technically called "septae". This grid is the structure that hold any fat in place. When the grid gets weak or loose (which is usually genetic) the fat bulges out, causing the "dimpling" that we call cellulite.
Losing weight alone will not necessarily get rid of cellulite – because it doesn't fix the "weak grid". And, exercise will only strengthens muscles – NOT the septae "grid"! So, the only way to remove cellulite is to remove the underlying fat AND strengthens, tightens and smooth the skin's septae!
Beverly Hills only CelluSleek Cellulite Removal
At our Beverly Hills area salon, we are the only facility in Beverly Hills to offer CelluSleek Cellulite Removal. This cellulite removal treatment uses the latest, state-of-the-art equipment that actually removes cellulite by working beneath the skin!
Our Cellulite Removal is non-invasive & non-surgical. Our CelluSleek Cellulite Removal Treatment works using cupping, suction, light stimulation, deep tissue therapy, vibration & percussion – all in one comfortable cellulite removal treatment – that is fast, affordable and non-invasive (non-surgical).
Best of all, these cellulite removal treatments are actually permanent if you continue forward with a healthy diet and moderate activity!
Best Cellulite Removal Beverly Hills
Now you don't have to hide your body in this 90 degree heat – now you can flaunt it thanks to our Beverly Hills cellulite removal treatments. You will look better in your bikini – including cellulite reduction, muscle toning, body sculpting, loss of inches and firmer, tighter skin – after just the first visit.
If you would like to get bathing suit ready by removing unwanted cellulite and fat without surgery, schedule an in-person evaluation with me in my Beverly Hills area salon.
My cellulite removal treatments will remove your cellulite and leave you bikini-ready with smoother, more beautiful skin. Schedule your appointment today to get the bathing suit body you've always wanted!