Beverly Hills Best Cellulite Treatment
–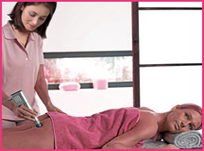 Beverly Hills is one of the fashion capitals of the world. And the women who are fortunate enough to live (or visit) here pride themselves on looking their best – whether on the red carpet or on the beach! To service these fashionable women, hundreds of cellulite treatment options have sprung up in the Beverly hills area – some are "OK", some are completely ineffective, and only a few are great!
So how do you choose a cellulite treatment in Beverly Hills? How do you really know which  offers the most effective – and fastest – cellulite removal at the best price?
For years I have been providing cellulite treatments for professional women, women who work in the fashion or entertainment industry, and even Hollywood stars get rid of unwanted cellulite – right here in the Beverly Hills area!
As an experienced skin care specialist, I not only understand the latest skin care techniques I am trained in the latest state-of-the-art cellulite treatment equipment. The list below will help you choose the best cellulite treatments.
What to Look for in the Best Cellulite Treatments:
New state-of-the art cellulite treatment equipment
Ability to "target" fat and cellulite in specific areas
Are non-invasive and non-surgical
Not painful! Should be relaxing & comfortable
Do NOT result in "downtime" or "recovery time" after treatment
Work WITH the body to remove fat and cellulite
Shows immediate results after just one treatment
Has long lasting effects and is not just temporary water loss
Works even when strenuous exercise & low-calorie diets fail
Is healthy, natural, and causes no trauma to your body!
We Offer the Best Cellulite Treatments
– Beverly Hills
No matter what part of your body has unwanted cellulite, we can reduce or remove it with our new, state-of-the-art cellulite treatment equipment, products & techniques. You will not only lose inches, but our cellulite treatments also restore your skin's natural elasticity and smooth appearance.
CelluSleek Cellulite Treatments
– Beverly Hills
Currently we are the only weight loss spa in Beverly Hills to offer state-of-the-art CelluSleek Cellulite Treatment. Non-surgical, non-invasive and completely natural, state-of-the-art Cellusleek cellulite treatment uses the latest technology and equipment for fast and gentle cellulite reduction.
Additionally, CelluSleek cellulite treatments work on every body type. Whether you are a curvy girl with some unwanted pockets of fat – or a skinny girl who just can't get rid of the "lumps & bumps" Cellusleek cellulite treatments will work for you.
CelluSleek Cellulite Treatment works by combining a variety of techniques into one cellulite treatment.  Cellusleek works on a sub-dermal (below the skin) level by combining cupping, suction, light stimulation, deep tissue massage, vibration & gentle percussion into one cellulite fighting treatment.
CelluSleek Cellulite Treatment is all natural, fast, affordable, non-invasive (non-surgical) and pain free. It causes NO trauma to your body. And most clients see visible results after a single visit! In fact – my experienced professional opinion – CelluSleek Cellulite Treatment is better, faster, more effective and more advanced technology than Endermologie!
You will love your beautiful, sleek, toned, cellulite-free skin!
Microcurrent Cellulite Treatments
– Beverly Hills
I also am a big fan of Microcurrent Cellulite Treatment for targeting specific problem areas, including: abdomen (i.e. belly or "stomach"), upper arms, buttocks, hips, thighs and even the breast area.
Microcurrent Cellulite Treatments are implemented on each individually targeted area of fat or cellulite. The main reason I love Microcurrent Cellulite Treatments is that the results are permanent if you maintain a reasonably healthy diet and moderately active lifestyle!
Microcurrent Cellulite Treatment can be used to: reduce cellulite, tone muscle, sculpt your body, lose inches, reduce fat and increase your metabolism.
Best Cellulite Treatments in Beverly Hills
If you would like to remove cellulite without invasive and painful surgery, call us to schedule an in-person evaluation in my Beverly Hills area salon. We will discuss the cellulite treatment options that are best for you.
Whether you wear a suit, an evening gown or a bikini, my cellulite treatment and body contouring will leave you with smoother, more toned & beautiful body. Schedule your appointment with Lisa to get the Beverly Hills Body body you've always dreamed of!