Compare Beverly Hills Anti Aging Facials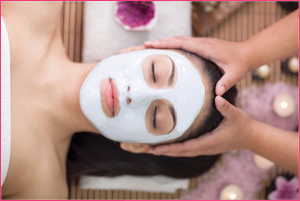 Beverly Hills is home to some of the most beautiful women in the world. And – as a "middle aged" woman myself – I understand the pressures that all of us females face when trying to retain our youthful looks.
But these intense summer days we are having (it was 95 degrees in Beverly Hills today!) make it almost impossible to avoid the sun's damaging UV rays that can accelerate fine lines, wrinkles and other signs of aging.
Anti Aging Facials: the Beverly Hills Alternative to Plastic Surgery!
Most women would prefer to have a relaxing, pampering facial – rather than going under the knife – to fight the signs of aging. Fortunately, modern breakthroughs in skin care treatments & products – including state-of-the-art facials – can reduce your fine lines & wrinkles without surgery!
At Lisa's Belle de Jour we offer the widest variety of affordable, effective anti-aging facial treatments that can restore your skin's youthful appearance by improving its elasticity and smoothness.
CelluSleek Anti-Aging Facial 
The Treatment: This is a combination of french drainage techniques, gentle rolling & percussion, vacuuming & suction.
How this Facial Works: Cellusleek removes toxins from under your skin while stimulating collagen & underlying tissues.
Skin Effects: CelluSleek will reduce the appearance of fine lines & wrinkles, and tightening  your loose skin.

Microdermabrasion Facial
The Treatment: Microdermabrasion exfoliates the top layer of the skin cells (dermis).
How this Facial Works: This facial stimulates collagen, plumping lines & wrinkles. It also reduces pores.
Skin Effects: Microdermabrasion both firms the skin and minimizes fine lines & wrinkles.

Jet Oxygen Anti-Aging Facial
The Treatment: High pressure medical grade oxygen & nutrients also gently forced deep into the underlying levels of the skin.
How this Facial Works: Skin's cells are nourished, hydrated & plumped by 87 different vitamins & enzymes.
Skin Effects: Oxygen facials will improves elasticity, while the exfoliation refines fine lines, leaving skin smoother.

LED Anti-Aging Facial
The Treatment: Light Emitting Diodes (LED) of varying colors (frequencies) are applied.
How this Facial Works: The various LED frequencies boost collagen and increase elastin.
Skin Effects: Collagen generation improves your skin's elasticity and firmness.
Schedule Your Beverly Hills Facial Today! Call: (323) 451-5472